A Win-Win with MSG and NSG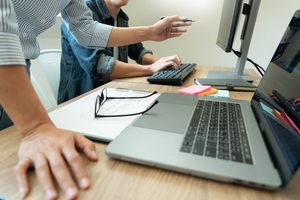 Are you a local business in the Ann Arbor area?
Do you need more reliable tech support?
Are you unhappy with your website's performance on Google?
Network Services Group and Michigan SEO Group offer a rare package of full-service IT support combined with search engine optimization, website creation and management, and social media and Google Ads management. This partnership has been strengthened through years of work together and a strong friendship outside of work. NSG and MSG work hard, have fun, and provide real results for their respective clients. Read about their relationship below from the CEOs themselves:
From Don Prior, CEO of Network Services Group:
"I founded Network Services Group in 2001 to offer IT service and support to small businesses, as well as website design and hosting. By 2006 it had become clear that having a website wasn't enough. To grow their business, people needed a website that would show up in the search results.
After spending a lot of time researching and experimenting, I came up with a checklist with steps for improving search engine results. I would hand out the list to anyone that asked, but the problem was no one ever put the work in to perform all of the tasks on the list.
I knew Nick Suino from the martial arts world, and when I built him a new website for the Japanese Martial Arts Center (JMAC), of course one of the things he asked was, "will my site show up in Google?" I gave him the list and told him to have fun. Maybe it was the discipline he developed from doing martial arts for years and years, but unlike everyone else, he put the work in and diligently performed all the steps on the checklist, and the results were amazing.
People began asking us how we got the JMAC site to show up so prominently in the in the search results. We would tell them and give them the list, but again nobody followed through. We thought to ourselves, everyone needs this, but no one is able or willing to do it themselves, and thus Michigan SEO Group (MSG) was born.
MSG has been helping companies with their websites and internet marketing since 2008. It's no longer just about having a website. It's about having a healthy online presence."
From Nicklaus Suino, CEO of Michigan SEO Group:
"The foundation of the work we do at MSG is based on listening to what the world needs. After learning how to do SEO from Don Prior, I spent months attending networking groups in and around Ann Arbor. The theme was always the same – entrepreneurs and business owners asking, 'how can I get more business?' Between what I learned from Don and the hard work I had put in to promote JMAC, I had some really good answers for them.
Today, we're so blessed to work hand in hand with Network Services Group. Their IT expertise not only helps ensure that our offices run efficiently, but they also provide exceptional support to many of our SEO clients. I've always said that one key to business success is creating great partnerships, and the NSG-MSG partnership with our mutual clients is a real-world example of a Win-Win-Win."
Your One Stop Shop for IT Solutions and SEO in Ann Arbor, Michigan
If you aren't satisfied with the security, performance, or reliability of your network, please contact Network Services Group for your IT Solutions in Ann Arbor. NSG strives to make your experience with computers and technology a positive and productive one!
MSG puts real-world strategies to work for your business. Their custom, user-friendly websites, quality content, and best SEO practices make your digital presence more than just a website. It's an extension of your business, your values, and the people that make your business rock. If you need SEO in Ann Arbor, Contact Michigan SEO Group for a free website analysis or give them a call at (877) 815-6974.