Web Design

Why Have a Website?
A website is one of the most cost-effective ways to promote your company. Unlike other forms of advertising, a website is not limited to a 30-second spot, a ¼ page ad, or some other arbitrary restraint. A website can contain a wealth of information about your company and the services it provides. When your current and potential customers can easily research what you offer, there is a much higher chance that you will get the opportunity to do business with them.
Why Choose NSG?
Designing websites is what we do, and we have been doing it for a long time. Our team of experienced designers will walk you right through the process, making it simple and painless. We will take care of everything for you, ensuring you won't have any problems. We know all about designing websites so that you don't have to.
Services for Web Design in Ann Arbor
We could mention how the websites we produce are optimized for speed and efficiency, or hand-coded to produce brilliant and unique designs that showcase your company's products and services. Or, we could mention how our framework is built to make future expansion and changes easier, saving you time and money in the long run. However, we really don't need to, as our results speak for themselves. Visit our portfolio to see some examples of our web design work.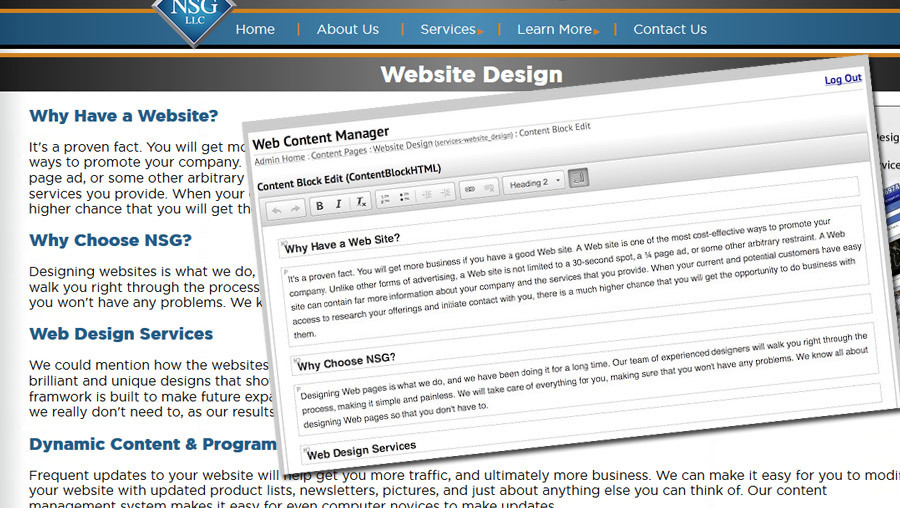 Editing your website is as simple as using a word processor.
Web Hosting & Email Services
NSG provides reliable Web and Email hosting with advanced junk and virus filtering services. We have servers located in several data centers, each with redundant Internet connections, backup batteries, and generator power. Each server is maintained with the latest security updates and audited regularly to ensure reliability and data integrity. We do all of this so that you don't have to.
What does that mean for you? That means that your site will be available to you and your customers when you need it to be. It means that we will be here for you when you need us.
Web hosting packages also include access to our state-of-the-art email server, featuring virus and junk mail filtering. How much time do you waste trying to wade through useless advertisements in your inbox? Our system can help filter out junk mail so you don't have to waste time sorting through it. Email should be a useful tool, not a hindrance, and our email system can help you regain control of your inbox.
Newsletters
Customer Login Sections
Database Driven Product and Service Pages
Shopping Cart and E-commerce Solutions
Upcoming Events and News Articles
You name it - We can do it!
Dynamic Content & Programming
Frequent updates to your website will help get you more traffic, and ultimately more business. We can make it easy for you to modify your website with updated product lists, newsletters, pictures, and just about anything else you can think of. Our content management system makes it easy for even computer novices to make updates.
Need a new web design for your Ann Arbor business? We serve business clients in Ann Arbor, Brighton, Howell, Farmington Hills, Novi, and all other cities in Livingston, Oakland, and Washtenaw counties. Call today to get started!