Business Email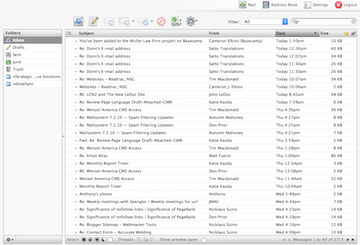 NSG Web-based Email Access from Anywhere
Tired of getting so much SPAM? We have been installing and configuring email systems on the Internet for over a decade. Our systems have managed email accounts for everyone from service providers with tens of thousands of customers to small businesses with just a handful of employees. We have the experience to know what works and what doesn't.
What We Offer
The NSG Email System is a state-of-the-art email hosting system that offers such advanced features as:
Web-based control panel to easily add / remove accounts
Advanced junk mail filtering to curb the flow of spam
Virus scanning of all incoming and outgoing messages
Vacation / out-of-office message autoresponder messages
Email reminder system to send messages in the future
Accessible via web mail or any standard POP3 or IMAP mail client
Server-based message storage for centralized backups
Access to the NSG Email System is included with our web hosting services, but it may be also be purchased separately. If you expect a high mail volume or require a large number of accounts, we can even install and maintain the NSG Email System on one of your in-house servers. Either way, you'll enjoy the benefits of fast, reliable, and feature-rich email service.
Advanced Mail Filtering and Processing for Existing Mail Systems
We realize that many companies already have an investment in existing in-house mail systems such as Microsoft Exchange Server. That is why we make a modified version of our mail system available to act as a mail gateway and firewall for those systems. It can filter out harmful viruses and junk email messages before they even reach your existing mail server, all without requiring significant changes to your current configuration.

Web-based Email Control Panel
In several cases, we have helped customers with Exchange servers who were experiencing system crashes, service failures, and extremely slow mail processing due to an overwhelming flood of junk mail. Our mail gateway system solved the problem by removing the Exchange server from the line of fire. In one case, our mail gateway system received 100,000 incoming messages in a single 24 hour period. Out of that deluge of mail, only 750 messages were accepted for delivery — the rest were rejected outright as invalid. Out of those, an additional 300 were identified as junk mail and filtered out. Now those are results!
Other Ways NSG Can Help
We have helped clients with some very unique email needs. In one case, a client of ours wanted to automatically archive all inbound and outbound messages to and from a particular client. In another case, a client need all outbound messages to carry a confidentiality message attached to the bottom. Mailing lists, automated emails, database integration, fax-to-email, installing new systems, and troubleshooting existing ones... we've done it all and can help you with whatever you need. Give us a call today to speak with a computer support specialist in Ann Arbor!