Programming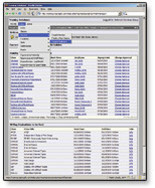 Menu Driven Web Applications
Have you ever looked around your office at the endless stacks of paper, wondering where something was? Maybe it was a customer order, a note to return a call, or just a phone number for a particular client. Have you ever assigned a task to one of your employees and later wondered if it had been completed? If you have ever asked, "Isn't there a better way to do this?", then an NSG custom programming solution might be just what you need.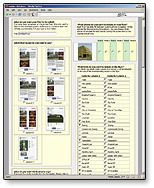 Automated PDF Document Generation
How many times have you either tried an off-the-shelf software solution that claimed to do what you required, but ended up not meeting your particular needs? Retail software doesn't often contain the features you need — or if it does, it is just too muddled or complex to use effectively. The problem with off-the-shelf software is that it tries to be all things to all customers, but it often ends up not being any good at the things you really need it for.
A custom software solution is different, because it is designed from the ground up to accommodate your needs. You have your own way of dealing with customers, of placing orders, and ensuring quality service. You do things a certain way because it makes the most sense for your business. We can create a custom solution that does exactly what you need, just the way you want it done. No longer must you compromise your workflow to adapt to prepackaged ways of doing business.
It's all about automation, organization, and efficiency. NSG can build you a custom database to track the critical business information that you need. All of that information can be at your fingertips, for quick retrieval and easy review. Stop changing the way you work to accommodate a software package that almost — but not quite — meets your needs. Your software should be designed to work the way you do, in order to maximise benefits and productivity.
Please feel free to contact us to discuss ways to help automate your business.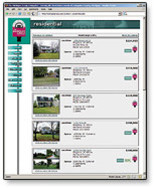 Real Estate Listing Solutions
Our portfolio of work includes:
Online Business Manager
Maintain client, vendor, contact information. Delegate tasks and monitor employee progress. Company-wide scheduling calendar. Customized work orders, customer orders, purchase orders, and reports. Triggers to alert you via email or cell phone when certain events occur. Dispatch tasks to employees in the field.
Learning Management System
A complete learning management system. Track classes, facilitators, scheduled sessions. Employees log in to search and sign up for classes. Managers notified to approve employee training signups. Administrators can review training histories, search for employees with specific skills or certifications.
Order Management System
Tracks customers and vendors, each with multiple locations. Quotes, orders, and invoices tailored to meet unique needs of customer and their product line. Replaced difficult DOS based system with dynamic visual forms. Aging reports and order fulfillment tracking.
Real Estate Marketing Database
Stores complete listing information, with photos, for different types of commercial real estate properties. Flexible searching options. Search results saved as PDF files or printed for clients, with customizable output fields. Sales contract generation. Easy flyer generation from listed properties for consistent results that still maintain flexibility.
Content Management System
Database management system that allows even non-technical users to easily add and change content on dynamic websites. Once logged in, users are presented with a menu of the portions of the website that can be modified, and can update text, checkboxes, selections, files, and pictures without having any web design experience.