The Lahaina Fires - Don's Experience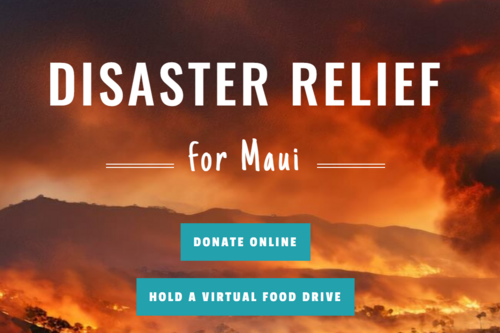 At NSG, we've always tried to make giving part of the mission. For the last several years, as a matter of course, I make a charitable donation each and every month when I pay our other bills. We generally are quiet about it (it's not like we are crowing from the rooftops), and the reason I mention it at all is to perhaps encourage and motivate other people to give.
All that being said, I am going to take this opportunity to crow from the rooftops about supporting a cause that is near and dear to my heart – Maui and the people of Lahaina who were devastated by the recent fires.
Almost 20 years ago, Amy and I took our honeymoon on Maui, and we stayed in the Lahaina area. We immediately fell in love with Maui and decided that we wanted to make Maui part of our lives. We've pretty much been back every year since. I feel very grateful and fortunate that we were eventually able to buy a place of our own.
We were actually on Maui during the fires. I had woken up early (4:00 a.m.) on the day of the fires to hop on a Zoom call. It was pitch black outside and I could hear the wind whipping. My clock was blinking so I knew the power had flickered; I warned the people on my Zoom call that I might get disconnected. An hour later we were just wrapping up the call when the power went out and stayed out.
I had an appointment that morning to take my truck to the other side of the island for service. As I was driving, all the traffic lights were out, and the wind was really whipping around, increasing in ferocity as I approached Lahaina. The A/C was broken in my truck, so I had the windows open. As I turned on the bypass, I smelled smoke in the air, but there was so much dust and dirt flying around, I couldn't see where the fire was. I assumed it was up on the hillside. As I continued to drive, I noticed a huge water devil swirling away just offshore.
I dropped off my car, picked up a rental, and made the return journey. On the way back, I noticed the bypass was really backed up heading out of Lahaina, but there wasn't a ton of traffic going in. Traffic eventually slowed and stopped near the top of the bypass. It started crawling again and I was almost at the bottom of the bypass when a police car pulled in front of me and blocked the road and told everyone to turn around. I later found out they blocked the road because of downed power lines.
I had to turn around and head up the bypass to the Lahainaluna exit. I was just at the top of the bypass when a huge dust cloud came over me and I was unable to see anything for 30 seconds. Traffic was really backed up at this point, so I called Amy and asked her to check Google maps to see if there was a way for me to get back with less traffic. She said no, not really. Google maps was showing that traffic was backed up but still moving, albeit really slowly. I almost decided to stop in Lahaina and hang out there until the traffic cleared but ultimately decided against it.
With stop-and-go (mostly stop) traffic I eventually made it down the main road and was able to head north. Traffic cleared up once I approached Ka'anapali, and I was super happy and grateful that I was able to get home. The power was still out and we also had no internet. I decided to walk down to the beach park to sit and read my book, but the wind was still whipping around, and it started blowing debris off of the trees, nailing me in the head so I called it quits and went back to the house.
Later that day (around 2:00 or 3:00 p.m.), we lost all cell phone signals and were unable to make any calls, texts, or access anything on the internet. We checked on our neighbors who were all fine. One of my neighbors offered to let us borrow a small generator to power our refrigerator since they had a Tesla Powerwall battery, so we gratefully accepted that.
We had no power so we couldn't use the stove or microwave, but we still had our trusty grill. I always like to keep a spare propane tank around, but on our last trip our main tank went empty, so I connected the spare. As it turned out, there was some kind of strike going on at the time that affected propane deliveries, so I was unable to get a refill. I figured no big deal, I'll just deal with it next time. At least the replacement tank was mostly full, and fortunately we had just gone grocery shopping and had a reasonable supply of food in the fridge, pantry, and freezer. We did still have running water, so that was good.
By the time I got around to grilling, it was getting dark outside, so we used a mixture of flashlights, candles, and an extension cord from the generator to run a lamp. At some point the generator ran out of gas (it only had a small amount of gas in it), but my neighbor gave me a gas can with a few gallons in it, so I figured I'd fill it up the next day and run it every once in a while to keep the temp in the refrigerator down. Shortly after that, we went to bed since it was pitch black outside.
Later that night around, 10:15 p.m., we were woken by a loud banging on our door. It turns out it was our friends, Mark and Robyn, and they told us there was a huge fire in Lahaina, the entire city burned down, and they thought their house had burned down along with it. They threw some stuff in their cars (including their kitty) and drove north to get away from the fire.
Of course, we took them in and were extremely grateful they were safe, but at the same time we were devastated to hear about the fire and the entire town burning down. It takes a while for something like that to sink in. "What do you mean, the entire town? You probably just mean a couple of buildings, or maybe a couple of blocks?" They made it clear that no, it was the whole town. I can't even imagine how they must've felt thinking that they had lost everything, but at least they were safe.
The next morning, we still had no power, no internet, and no cell phone service. We could only guess at what had happened and what the state of things was. We checked in on our neighbors to make sure they were OK and to see if they had any news. There was no way to communicate, and the roads were mostly closed so we didn't really know much.
I took my bike north and tried riding up some big hills to see if I could get a signal. I eventually reached a spot where I could send and receive a few text messages (though most of them failed, and I had to try resending multiple times) to let people know we were OK.
We eventually found that we could get slightly better cell service if we drove up to the Kapalua airport. Still no internet. You could usually send and receive text messages (no pictures), but still no internet signal. Not very convenient, but at least we could go there and get some messages out to let our families know we were safe. Also, some of the locals were able to start bringing supplies such as food and water.
One of our neighbors took his moped and drove into Lahaina. The police tried to wave him off, but he kept going. He took a bunch of pictures and videos and showed them to us when he returned. Everyone in the neighborhood was squeezing in around him trying to look at his phone. Sure enough, pretty much the entire town had burned down.
Think about this – there were no gas stations, no grocery stores, and no restaurants. Everything was closed, because even the stores that didn't burn down didn't have power, and for the first week the roads were mostly closed so you couldn't go anywhere.
Local volunteers started stepping up, gathering donations and making supply runs. Various distribution hubs started popping up all over the place. The locals organized and ran it all – the State and Federal governments were nowhere to be seen.
Our friends Mark and Robyn were later able to drive to town and learned that their house didn't burn down – it was one of the few in their neighborhood to survive. While that's fantastic news, the house still isn't livable because they don't have power or water, and everything around it burned down so there is smoke, debris, and toxic chemicals in the air.
Things started to improve a little day by day.
Clothing, food, and water were provided to anyone in need. Mobile trucks with Starlink satellite internet terminals and recharging stations started appearing. Arrangements were made for medical care and for people who needed medicine. A lot of local restaurants prepared and delivered hot meals free of charge to anyone in need.
Some guy just showed up in our neighborhood and dropped off a Starlink terminal for everyone to use (thanks Jake!). Throughout the day, the whole neighborhood would gather to get news and send and receive messages.
The power went off Tuesday just before 5 a.m. and didn't come back on for us until Saturday afternoon. Cell phone reception gradually improved to where we could make calls and send texts if we stood in our cul-de-sac, and ultimately to the point where we could get a weak signal in our house. Good enough for texts and calls but still no internet via cell, and our cable internet is still down. Fortunately, another neighbor got a Starlink terminal from work and I helped him set it up, so he let me connect to it and the signal reaches our house.
We were very fortunate and I'm eternally grateful that we are safe, our friends are safe, and that our house was not harmed. Many people lost loved ones, their homes, their cars, their jobs, and everything they own. It's just devastating, and my heart goes out to them. We are doing what we can to help, including donating, volunteering, and offering to help.
If you'd like to help support the people in Maui, then donating to the Honokowai Relief Fund would be a good way to do it. This is a local grassroots organization with boots (and tents) on the ground at the beach park in Honokowai (a few miles north of the fires in Lahaina). They are providing food, water, supplies, medical care, internet connectivity, and other much needed materials and services.
It's not the government doing this - it's the locals. Please help and donate if you can. Here is the link to the Honokowai Relief Fund: https://www.givesendgo.com/honokowairelief
Other worthy causes that are on the scene and helping (and that we've seen with our own eyes) include:
The people in Lahaina are in need. Some of them lost everything, and they could use your help. If you can find it in your heart, I humbly ask for you to donate. The road ahead will be long, but with your help, the good people of Lahaina will recover and rebuild. #LahainaStrong
Network Services Group is an IT Support Specialist in Ann Arbor, Michigan
NSG has been helping local businesses with computer and network services for over 20 years. Our goal is to establish long-term relationships with our customers and assist them every step of the way in building their IT infrastructure. For more information, visit https://www.nsgroupllc.com/about